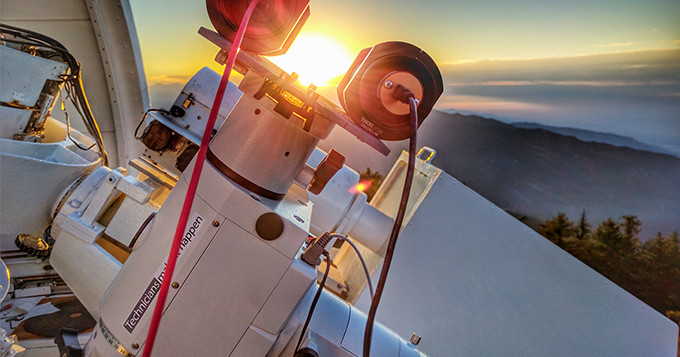 Chartered Scientist wins national photo competition
Steven Hale, a Chartered Scientist from the University of Birmingham has been named overall winner of the #TechniciansMakeitHappen photo competition, celebrating the UK's 1.5 million technicians.
The winning image captures a sunrise over the world-famous Mt Wilson Observatory in Los Angeles. Steven who works on cutting-edge robotic telescopes like the one in his picture will receive £1000, as well as career mentorship from industry experts.
The competition was launched last year by The Gatsby Foundation to encourage more young people to consider a career as a technician, as over 70,000 roles go unfilled each year in the UK. More than 300 photos were entered into the competition, showcasing the amazing things technicians build, make and create – from space equipment to sports kits, concerts and cars.
Steven Hale, said:
"I am delighted to have been selected as the overall winner of #TechniciansMakeitHappen. There's often very little recognition of the people working behind the scenes to build new technology or help make ground-breaking discoveries. I think campaigns like #TechniciansMakeitHappen are incredibly important to raise the public profile of technicians and showcase the diverse and exciting opportunities for young people who choose a technical career."

Steven Hale, Chartered Scientist, University of Birmingham
The competition was judged earlier this month by an esteemed panel, including Jez Brooks at tech giant IBM and photographer Leonora Saunders, whose work has featured in national publications like the Guardian and The Sunday Times.
"This image captured a stunning dawn that contrasted effectively with some impressive technology. This was a great 'point of view' shot that conveys the progressive and exciting work of a technician through an inspirational vista."

Leonara Saunders
"This competition has been an excellent opportunity to showcase the breadth of fascinating, intriguing – and even beautiful things that technicians make happen.

In my role at IBM, I am focused on inspiring the next generation of IT professionals and technicians. The variety shown in the entries to the #TechniciansMakeitHappen photo competition demonstrates that a career as a technician is diverse, challenging and never dull!"

Jez Brooks, IBM Early Professionals Manager, Apprentice Scheme Leader, UK Foundation
As part of the campaign, more than 25 industry leaders have pledged their support including the BBC, Royal Air Force, Mercedes AMG and Siemens. Compelling case studies, photographs and artefacts are touring the UK to inspire the next generation.
To find out more, visit www.technicians.org.uk.