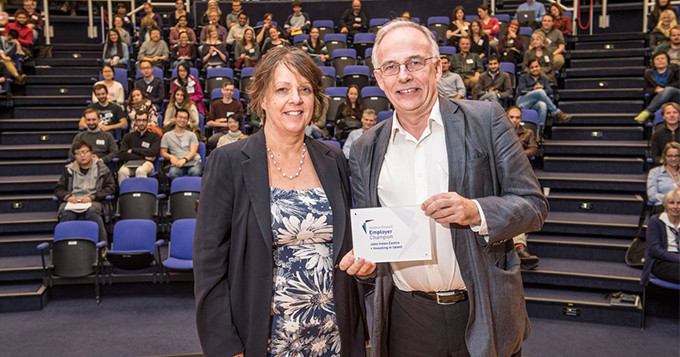 John Innes Centre awarded Science Council Employer Champion status
As part of the John Innes Centre's (JIC) Annual Science Meeting on 14 October 2016, the Science Council visited the site to present Director, Dale Sanders, with their Employer Champion plaque and to award two professionally registered scientists their certificates.
Employer Champion status recognises the JIC's commitment to championing the values of professional registration and supporting their scientific staff through the registration process, for those who are eligible, as well as recognising staff who become registered.
The John Innes Centre is an independent, international centre of excellence in plant science and microbiology and the second employer to gain Employer Champion status in the region. In affirming JIC's commitment to developing and nurturing the talent of their staff, Dale Sanders said:
"JIC values its Research & Support Staff and wishes to provide opportunities for them to further career development. Professional registration provides this opportunity and will help raise the profile of scientific and technical staff."

Dale Sanders, Director, John Innes Centre
The Science Council looks forward to welcoming many more John Innes Centre staff to our registers.
Find out more about your company becoming an Employer Champion.