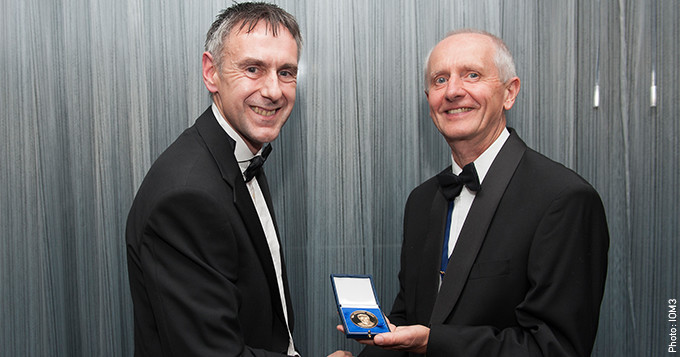 Chartered Scientist receives prestigious award at IOM3 Awards ceremony
Image: Dr David Farrar with IOM3 President, Professor Mike Hicks
On 12 July, winners of the IOM3 Awards were invited to a ceremony to celebrate their achievements at The Institute of Materials, Minerals and Mining (IOM3) HQ in London.
The annual awards recognise both personal triumphs and outstanding contributions of companies within the materials cycle. Awards presented on the night included the Chapman Medal, awarded to Dr David Farrar CSci FIMMM.
The Chapman Medal is presented for distinguished research in the field of biomedical materials, particularly with respect to biomaterials innovation, which has produced benefits for patients and/or contributed to associated opportunities for industry.
Through this award David has been recognised for his achievements in the medical device industry combined with active involvement in the wider scientific community. Read the full description of David's career achievements at iom3.org/iom3-awards-2016.
Further premier awards presented on the night are listed below:
Bessemer Gold Medal, awarded to Professor Alan W Cramb CEng FIMMM
Sir Andrew Bryan Award, awarded to Guy Bridges CEng MIMMM
Platinum Medal, awarded to Dr Dame Sue Ion DBE FREng FIMMM
Medal for Excellence, awarded to EurIng Steven Bedford CEng FIMMM
Futers Gold Medal, awarded to Professor Johannes Jacobus Le Roux Cilliers FREng FIMMM
Institute's International Medal, awarded to Mr Alberto Dias CEng MIMMM
Thornton Medal, awarded to Mr Gerard C Lynch
Small Local Society of the Year, awarded to Mining Institute of Scotland
Large Local Society of the Year, awarded to International Clay Technology Association, Yorks
To read the full list of winners, visit iom3.org/iom3-awards-2016