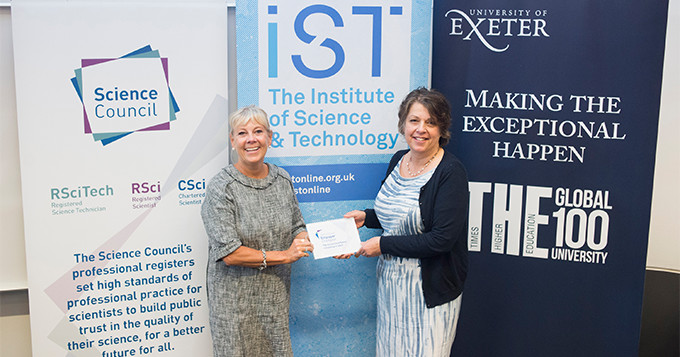 University of Exeter and National Laboratory Service awarded Employer Champion status
Photo: Jacqui Marshall, University of Exeter (left) and Belinda Phipps, Science Council (right)
The Science Council celebrated the University of Exeter and the National Laboratory Service becoming Employer Champions through a joint event held on the university campus last month. Both organisations were presented with their Employer Champion plaque and were praised for being the first two Employer Champions in the South West.
Employer Champion status recognises a shared commitment to investing in the development of staff and supporting them to become professionally registered.
The University of Exeter's 200-plus technical staff currently support £168m of live scientific research grants and support the delivery of a huge number of courses – across all levels of study from undergraduate study to postgraduate research degrees. Of the Technical Services staff and the need for registration Jacqui Marshall, Deputy Registrar, said:
"[Technicians] are the 'unsung heroes' of the University. They make an absolutely essential contribution to research and learning here at Exeter. The professional registration process provides a framework for developing our talent and rewarding high standards at all levels of our Technical Services workforce."

Jacqui Marshall, Deputy Registrar, University of Exeter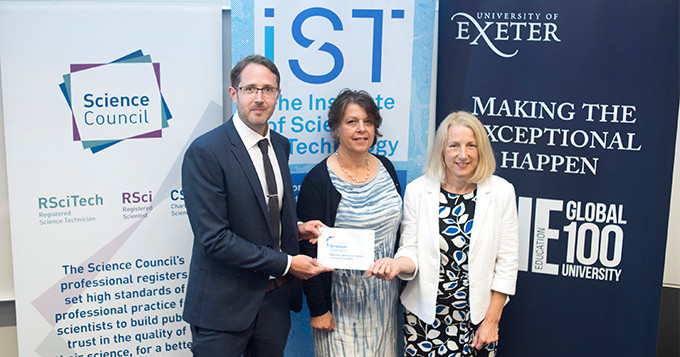 L-R: James Trout, NLS; Belinda Phipps, Science Council; Jackie Tucker, NLS 
Scientists at the Environment Agency's National Laboratory Service (NLS) provide data derived from laboratory tests, which underpins the evidence that allows the Environment Agency to make and influence regulatory and investment decisions. Speaking of the scientists employed by NLS and how they will benefit from becoming professionally registered Simon Padley, NLS General Manager, said:
"This work maintains a cleaner, healthier environment which benefits people and the economy. The Science Council professional registration process recognises the talent and depth of skill required from our scientists at the same time supporting development of these skills for the future."

Simon Padley, General Manager, NLS
John Siddorn PhD CSci CMarSci FIMarEST, Head of the Ocean Forecasting R&D group at the Met Office, closed the event with an engaging talk on the science he does and his own professional development. He told of the importance that the Met Office places on staff participating in continuing professional development and how, since joining in 2002, he has been supported in gaining his own chartership.
Find out more about how the Employer Champion programme could benefit your organisation.