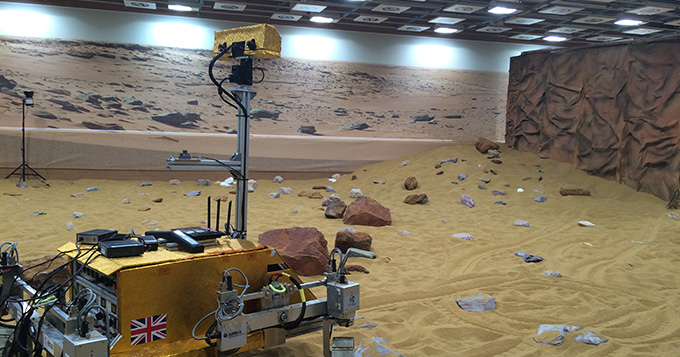 Life on Mars: a project that's out of this world
It is 2 days before Tim Peake piloted one of the Mars Rover prototypes from the International Space Station. I am on a tour of the Airbus Defence and Space facilities in Stevenage, organised by IET events. Abbie Hutty, one of the engineers on the ExoMars Rover project, has turned on the lights and there in front of me is the planet Mars.
I can't help but give an excited squeal.
Like many people, I wanted to be an astronaut when I was younger. That is, until I found out I was short-sighted and claustrophobic, and therefore not an ideal candidate for space travel. Standing looking out at the MarsYard I realise there were other ways I could have been a space scientist. If only I'd known.
European Space Agency and international collaboration
The ExoMars Rover is the name of the six-wheeled terrain vehicle which is intended to gather more insight and information on the red planet than we have ever had before.
The project has experienced various setbacks and delays but today, member states of the European Space Agency reaffirmed their commitment to launch a rover to Mars in 2020.
It's an inspiring example of both European and international cooperation, with Russia and Canada involved in its delivery. A collaboration that would have seemed impossible only 50 years ago.
Inspiring the next generation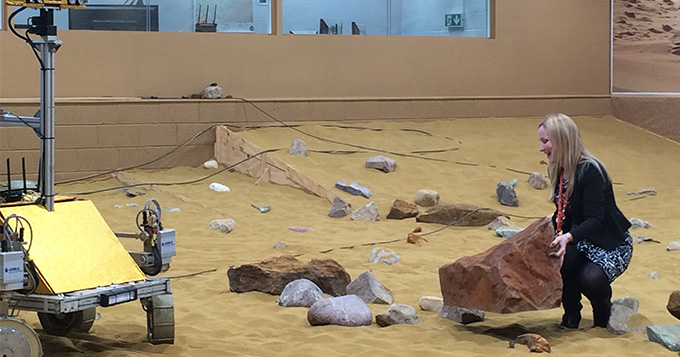 Abbie Hutty revealing one of the secrets of the MarsYard
In 2009 NASA developed a series of Mars Explorers Wanted posters, calling for teachers, farmers and, of course, technicians.
Things like the Rosetta mission comet landing and Tim Peake's time on the International Space Station have raised the profile of careers in space science and exploration. People like Abbie are great role models, not only for young girls, but for anyone who thinks space stuff is cool. As the Big Bang Theory claims on its own poster: smart is the new sexy.
The challenge is how to ensure that young people have the right advice and guidance to get into a science or engineering career. The Technicians Make it Happen campaign explains the variety of technical roles available, particularly good for anyone who's less interested in the academic aspects of STEM learning. Our own Future Morph website has advice for both young people and their parents.
Ultimately though, I think it has to sound fun.
It was heartening to find out – from Neil Gaiman no less – that China had held the first party-approved science fiction and fantasy convention in 2007, because they recognised its value for scientific invention and innovation.
Daring to have a science career is about daring to dream.
A world of science under one roof
This September will see the first New Scientist Live event, held at the Excel centre in London. The ExoMars rover will be there for people to play with, among other things, including a whole area dedicated to space called the Cosmos zone. If only it had been on when I was young!
The Science Council is able to offer an exclusive discounted rate on tickets (transaction fee applies, must be booked by midnight 21/9/16). Tickets for Thursday or Friday at the show are just £20 and tickets for Saturday or Sunday at the show are just £22.50. Plus, kids 12 and under go free when accompanied by an adult. To benefit, quote SCOUNCIL16 when you book.