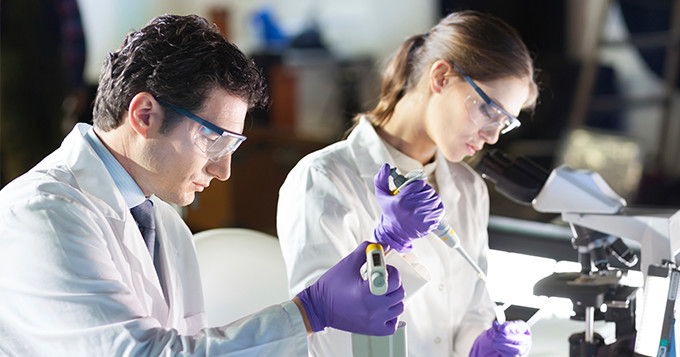 Working together to advance UK science
The Science Council is working with Scientific Laboratory Supplies to champion the excitement and enjoyment of a career in science at this year's SLS Lab Show and Conference.
We have chosen the event theme Working Together to Advance UK Science to reflect the growing need to widen career opportunities to non-graduates and school-leavers as much as to highly-qualified science graduates. The event is expected to draw over 1,000 UK and overseas delegates interested in laboratory technology, careers, logistics, safety, project management and commercialisation.
According to the Gatsby Foundation, 35% of companies engaged in science, engineering and technology say they are struggling to recruit enough technicians and that to meet the demand the UK will need to train around 70,000 people every year. In response, the Science Council will be running a full day of professional development and career workshops at the international Scientific Laboratory Show in Nottingham on 25th May. Sessions in the Professional Development Zone are open to anyone interested in a new career or looking to expand their current scientific career path.
"Our professional registers commit scientists and science technicians to standards of professional development that encourage career development and progression. We're pleased that during the show our team and those from our professional member bodies, including the Royal Society of Chemistry, the Institute of Physics and the Association for Science Education, will be providing expert advice and support to all delegates during the day."

Belinda Phipps, Science Council CEO
Drop-in workshops from writing a first-rate CV to presenting skills take place throughout the day, and national membership bodies will provide CV surgeries, the latest job listings and membership offers.
"Whilst we make sure that the very best labs are equipped with world-class instruments, it is the quality and calibre of the scientist and technician that makes all the difference. That's why we are delighted to be supporting the Science Council in setting the standards for professional scientists, and showcasing their work at the conference in May."

Peter Lister, Operations Director for Scientific Laboratory Supplies
As part of the drive to celebrate the science career, show organisers have launched a campaign to chronicle the 'History of the Laboratory in Ten Objects'. Anyone with a passion for science can nominate the object they feel has had the greatest impact on lab-based scientific research over the last 200 years.
Nominations can be posted online or via Twitter @SciLabShow or using the hashtags #SciLabShow2016 #10LabObjects. The top ten nominated objects will go into the Show's 'Hall of Fame' on 25th May, and delegates will be asked to vote for their Number One object during the show and conference.