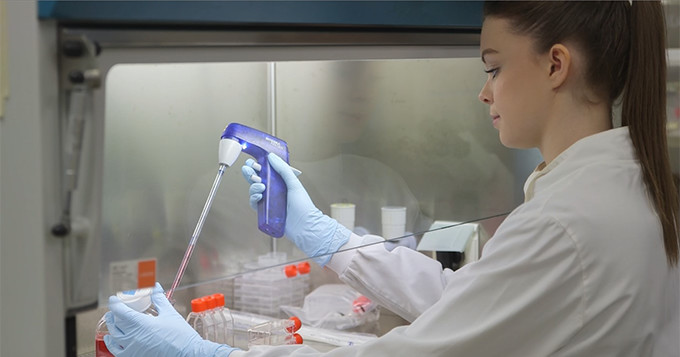 Not 'just' a technician
by Emma Bennison, Research Laboratory Technician, Newcastle University
After completing the Trainee Laboratory Technician Scheme at Newcastle University in 2014 and graduating with a BSc (Hons) in Applied Science, I completed my NVQ Level 3 Diploma in Laboratory and Associated Technical Activities to secure a position working in Newcastle University's Mitochondrial Research Laboratory as a Research Laboratory Technician.
Professional recognition
As soon as I began working in the laboratory it became apparent that the big topic amongst technicians throughout the University was about professional registration. The thought of being professionally registered (and having some letters after my name) sounded very exciting! Technicians are bound to the stigma of being 'just technicians'. But actually, we 'just' technicians provide the strong foundations of which great research is built upon.
I have always felt this way about my role and have felt privileged to be even a small cog in the clockworks of medical research that helps the system to run smoothly.
"I have never felt lowly in my role because I understand how important we technicians are."
Why I applied to become a Registered Science Technician
Professional registration really helps everyone else around us to understand what a huge role technicians play. It provides the recognition we need and deserve. That is why I applied for the Registered Science Technician (RSciTech) award.
The professional status will allow my fellow colleagues and my workplace to see that I am competent at what I do. It is also important to the research group I work for because when they apply for grants for more funding into the research we carry out, money is more likely to be granted to projects where it can be seen that the people associated are recognised as being competent in their job.
RSciTech for all technicians
I would recommend that all technicians consider applying for RSciTech. Not only does it provide your workplace with the reassurance that you are competent at what you do, it also helps you to recognise how much you do and what an important role you play within your workplace.
Professional registration also helps to give your CV that new edge that employers will now be starting to look for.
To celebrate the contribution apprentices make to the science workforce, the Science Council is running a special introductory offer for current and former apprentices who sign up to apply for professional registration during National Apprenticeship Week from 14th- 18th March 2016.