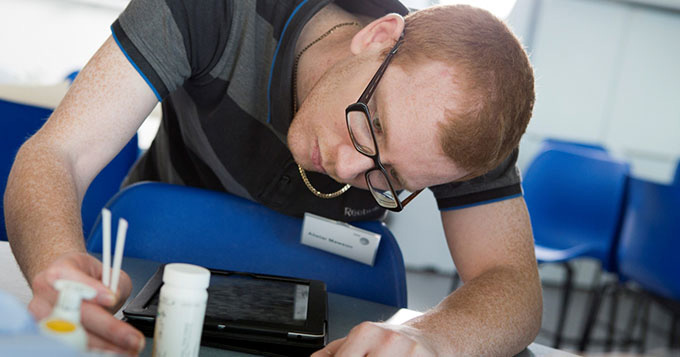 Apprenticeships: Widening access to the science workforce
We need an agile and highly skilled science workforce to be able to boost our economy and raise our standards of living. But while the science workforce is in high demand, science skills shortages exist, particularly technicians.
Value of apprenticeships
To stem this shortage, demand for non-graduates with science skills is on the increase and there is a great need for a wider range of routes to widen access to the science workforce.
Apprenticeships provide an answer to this. Apprenticeships train individuals for occupations rather than specific jobs, providing skills and knowledge that meet broader requirements of the science sector such as technical skills, rather than skills which are valuable to an individual employer only.
The Gatsby Charitable Foundation has mentioned that 700,000 more technicians are needed in the next decade to meet the demand of employers. This is why apprenticeships are increasingly being celebrated and recognised.
Scottish Modern Apprenticeship Week organised by Skills Development Scotland, recently celebrated the benefits Modern Apprenticeships (MAs) bring to businesses, individuals and the economy. It highlighted how employers are passionate about the benefits that apprentices bring to their business.
Dr Alison Frew explains how Ingenza has benefited from Modern Apprentices:
"Ingenza originally recruited Modern Apprentices to become technicians, now they have become an integral part of our business working on key customer projects… After 3-4 years of on the job training our apprentices have gained superior practical skills. Ingenza views our apprentices as having "expertise" whilst gaining experience."

Dr Alison Frew, Ingenza
Modern Apprenticeships also provide the opportunity to upskill existing employees and attract new entrants into the sector, as Neil Bartlett, Managing Director at CalaChem, describes:
"The programme brings highly skilled and capable young people into the Chemical Sciences Industry and helps our company fill important roles and provide succession planning for an ageing workforce… We have been extremely pleased with the attitude and performance of all those we have taken on."

Neil Bartlett, CalaChem
Raising the standards of science apprenticeships
The Science Council recognises that science apprenticeships need to provide high-quality training and career progression opportunities to be sustainable and is working with the Gatsby Charitable Foundation, our Employer Champions and bodies like Skills Development Scotland to promote the opportunities for apprentices to use their knowledge, skills and experience to gain professional recognition. With the new trailblazer apprenticeships we have also been working to ensure that all new apprenticeship standards lead to professional registration. This will help ensure that apprentices have the best opportunity to progress in their careers in science.
National Apprenticeship Week offer
To celebrate the contribution apprentices make to the science workforce, we are running a special introductory offer for current and former apprentices who sign up to apply for professional registration during National Apprenticeship Week from 14th- 18th March 2016.