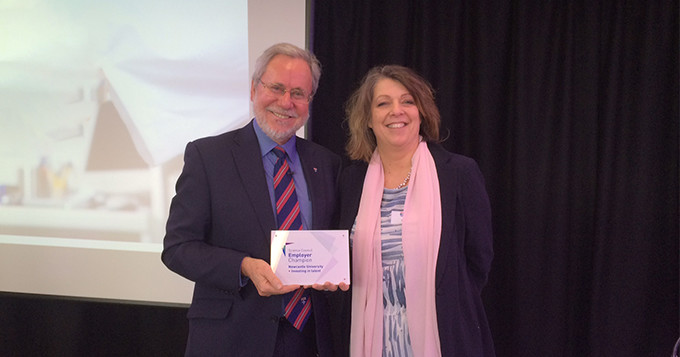 Newcastle University celebration day for technical staff
Newcastle University today celebrated the important role their technicians play in research and delivering an excellent learning experience for students.
Last year the University was awarded Employer Champion status by the Science Council, in recognition of the investment they are making to support technical staff through becoming professionally registered.
This morning, Science Council Chief Executive, Belinda Phipps, presented their Employer Champion plaque to the Vice Chancellor, Professor Chris Brink. The Vice Chancellor showed his own support in a speech that challenged the traditional way of thinking about technical staff. 
"There is a lazy stereotype that's hard to shake off, that universities are comprised of academics and the rest are admin staff. This is nonsense. None of us in the jobs we do would call ourselves 'admin'… Professional registration gives recognition where recognition is due."
While presenting the plaque, Belinda welcomed the progress Newcastle had made in promoting and encouraging technical staff to become professionally registered.
The morning also had presentations from Kelly Vere, senior technician at the University of Nottingham, who is working with the Science Council to encourage more Higher Education Institutions to recognise the valuable role of their technical staff; Blane Judd from EngTechNow, which promotes professional registration for engineering technicians; Kate Ford from the Gatsby Charitable Foundation, which is funding several programmes to promote technical education and careers; and some final words of encouragement from Philip Wright, Newcastle University's pro-vice chancellor.
In the afternoon, the Science Council and EngTechNow ran workshops introducing  technical staff to professional registration, attended by over 50 staff from across the university.