British Academy of Audiology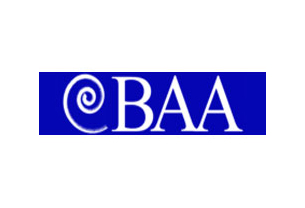 Details
BAA President, BAA Administrator, Fitwise Management Ltd
Blackburn House
Redhouse Road
Seafield
Bathgate
EH47 7AQ
Tel: 01506 811077
Fax: 01506 811477
Email: admin@baaudiology.org
Website: www.baaudiology.org
On behalf of its membership, BAA's vision is to provide a clear and strong voice for professionals in audiology and to promote excellence in clinical knowledge and practice.
The British Academy of Audiology (BAA) is the largest association of professionals in hearing and balance in the UK. Our membership extends internationally and provides services in both the public and private sector.
It was formed in 2004, as an amalgamation of: BAAS (British Association of Audiological Scientists) BSHT (British Society of Hearing Therapists) and BAAT (British Association of Audiology Technicians.
The BAA aims to help its members to develop in their professional skills, provide a benchmark for quality and professional standards and promote audiology as an autonomous profession. BAA was devised to work alongside other bodies, such as the British Society of Audiology which covers a wider group, including Medics and those in education.