Laurence Dawkins-Hall CSci, Core Research Technician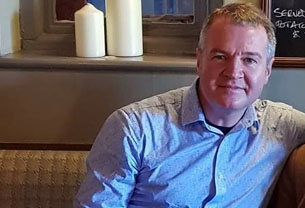 My Current Role
I am Core Research Technician within a BHF Cardio research centre linked to the University of Leicester. Within this role, I am responsible for the day to day management of a busy multi user, multi PI suite of labs, comprising (up to) 20 individuals. My principal responsibilities are stock taking, ordering and auditing; management of a consumables budget; equipment maintenance; lab organisation; health and safety, GLP and associated practices e.g. COSHH forms; autonomous participation in, management of and support for multiple lab based research projects, linked to one or more PI's. I also train & mentor students in particular lab based techniques, e.g. PCR and real time qPCR and also advise & instruct on Health and Safety matters, e.g. completion of COSHH forms. Finally, but not least, I participate in outreach events: Principally providing laboratory tours for non-Scientific personnel associated with the British Heart Foundation (BHF).
Why did I become professionally registered?
Since completing my degree in Biomedical Sciences in 1987, I have accumulated 25 years of experience, engendering lab based skills pertaining to molecular biology, cell biology, genetics and genomics & drug discovery. However, in the absence of a Ph.D. I hitherto had no professional qualification validating this experience; this is one of the functions of Professional Registration.
Why did I choose to become a Chartered Scientist (CSci)?
CSci is the highest level of Professional Registration and, apart from independent laboratory duties, accredits additional responsibilities relating to Lab management duties, e.g. training and teaching. However, with support and clarification from the Science Council, it was made clear to me that this could mean training of individuals and not just project management or team leader duties. As a consequence, I successfully transitioned from RSci to CSci in the absence of a project management remit
Should I professionally register and what grade should I pitch for?
Professional Registration accredits your work based experiences and so is useful just from that perspective. In terms of grading it is fully permissible to apply for RSci or CSci as a technician; It doesn't follow that you can only apply for RSci Tech as a technician. It relates entirely to your current job role, types of experience and not your job title. So aim high!!
Become professionally registered
Have you been inspired by Laurence Dawkins-Hall? Find out how to apply to become a Chartered Scientist (CSci) here.