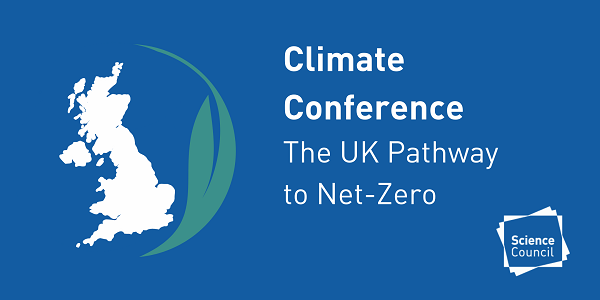 Climate Conference: The UK pathway to net-zero
This conference aims to bring together organisations from across this community, including many Science Council member bodies, to gain a greater understanding of our collective expertise and help identify opportunities for future collaboration.
The digital event programme is available here.
Please use and follow the hashtag #SCClimate2022 to keep up to date with the conference whether you're with us in person or online!
Streaming option
Given the limited in person spaces for this event there is a streaming option available, details below.
The agenda below outlines what talks will be streamed and when.
Plenary Panel 1 – The UK's Net-Zero Challenge from 9:40 to  10:50 with Helen Gordon as chair (Science Council), Professor Sir Peter Bruce (Royal Society), Chris Stark (Climate Change Committee) & Rachel Skinner CBE (WSP)
Keynote Address from 13:30 to 14:00 with Sir Patrick Vallance (GCSA)
Plenary Panel 2 – The role of the UK science and engineering community from 15:35 to 16:50 with Adam Donnan as chair (Science Council/IES), Professor Liz Bentley (RMetS), Dr Nicola Eckersley-Waites (CBI), Dr Sarah Honour (BEIS) & Professor Sir Duncan Wingham (NERC)
Please click the link below to join the webinar:
https://us02web.zoom.us/j/87664310492?pwd=dk9IZkNRK0RNbEVyZmtHRStUdXgwdz09
Passcode: 807080
Or Telephone:
Dial(for higher quality, dial a number based on your current location):
United Kingdom: +44 208 080 6591  or +44 208 080 6592  or +44 330 088 5830  or +44 131 460 1196  or +44 203 481 5237  or +44 203 481 5240  or +44 203 901 7895
Webinar ID: 876 6431 0492
Passcode: 807080
International numbers available: https://us02web.zoom.us/u/k5IWgSQ2N
Date
29.09.22
Hosted by
Science Council