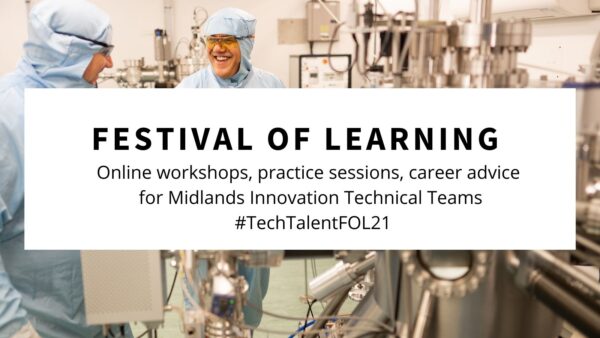 Midlands Innovation Festival of Learning
The Midlands Innovation Online Festival of Learning for Technicians Launches 24th May. 
When: Monday 24th May – Friday 11th June (inclusive)
Duration of sessions: Minimum 1 hour to maximum 2.5 hours
IT requirements: Zoom or Microsoft Teams
Cost: Free of charge
Technicians and technical staff within the Midlands Innovation universities are invited to join the very first Festival of Learning for Technicians.
The Tech TALENT team is working with learning and development departments from the partner universities to offer 15 online courses to inspire and empower individuals within the technical community.
Choose from informal learning cafes, sign up to workshops, take part in panel discussions and network with other people from the technical community.
Topics include a mix of problem solving, communication skills, risk management, chairing meetings and much more. Full details of all the sessions here: https://www.mitalent.ac.uk/Festival-of-Learning
The Festival of Learning is an online-only event which has been developed following feedback from technical colleagues across the Midlands in collaboration with technical managers.
To guarantee a place on a live workshop, book directly through the TALENT booking page. Some sessions have limited spaces to improve interaction and networking.
Book your space now: https://www.mitalent.ac.uk/Sign-up-to-our-training-courses
Join the conversation online on Twitter @MI_TechTalent #TechTALENTFOL21
Please note: the Festival of Learning is only open to technicians within the Midlands Innovation partnership.
Date
24.05.21
Hosted by
Midlands Innovation