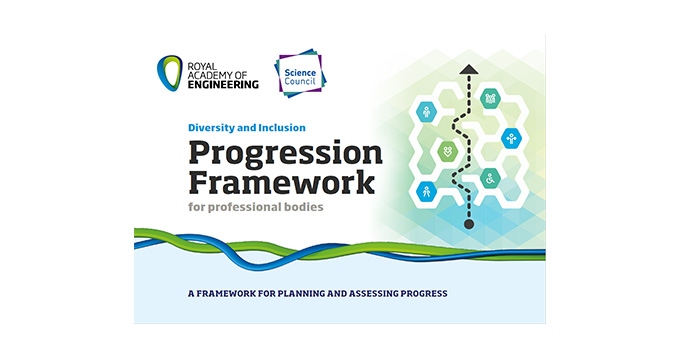 Introduction to the Updated Diversity and Inclusion Progression Framework
2nd December 2020, 10:30am – 11:30am, Via Zoom
BY INVITATION ONLY
About the session
Are you looking to embed diversity and inclusion (D&I) across your organisation and develop a robust D&I strategy? Join the Science Council and Royal Academy of Engineering to learn about the D&I progression framework and how you can participate in the collective benchmarking exercise. Launched in December 2016, the D&I Progression Framework is a unique tool that helps professional bodies track and plan progress on D&I across various areas of professional body activity. The framework can be used to structure conversations about performance and progress on D&I, identify strengths and areas for development, report on performance and plan next steps towards making progress.
Representatives from the Royal Academy of Engineering, the Science Council, the Institute of Physics, the British Institute of Non-Destructive Testing and others will share their experience of using the framework, answer any questions that you might have about the updated D&I framework and self-assessment, and give you practical tips on how to use framework to effect change. This will be an interactive session.
Delegates will receive a recorded session with presentations from the speakers that they can watch in their own time before the live online session on 2 December to help them prepare for the Q&A session.
This event is open to both organisations that have used the framework in the past and those who have never used it.
Book a buddy
Additionally, delegates representing organisations that are interested in using the Progression Framework are invited to book a one-to-one buddying session with representatives from professional engineering institutions and science bodies that have participated in the benchmarking exercise in the past. Representatives will be able to answer any questions about completing and submitting the framework.
Background to the Progression Framework
The workshop is part of the wider work carried by the Progression Framework Implementation Group (PFIG). It is part of a series of workshops to support science and engineering professional bodies that use the D&I Progression Framework. Previous events have included a workshop on D&I in grants, prizes and awards, a workshop on increasing D&I in education and training, course accreditation and examinations and a session on diversity data.
Managed by the Science Council and the Royal Academy of Engineering, the PFIG has been established to help engineering and science professional bodies make progress against the D&I progression framework. The group brings together resources, case studies and blog posts and periodically organises workshops and other events to develop professional body capacity to develop good practice and make progress across all eight areas of the framework, including prizes, awards and grants, and education and training, accreditation and examinations.
Tickets
This event is free for Science Council member bodies, but registration is required.
After registering your place, you will receive an email that contains login details to join the online event.
If you have any questions, please contact Brian Wagenbach, Member Engagement Manager at the Science Council.
Date
02.12.20
Hosted by
Science Council and The Royal Academy of Engineering