For registered scientists & technicians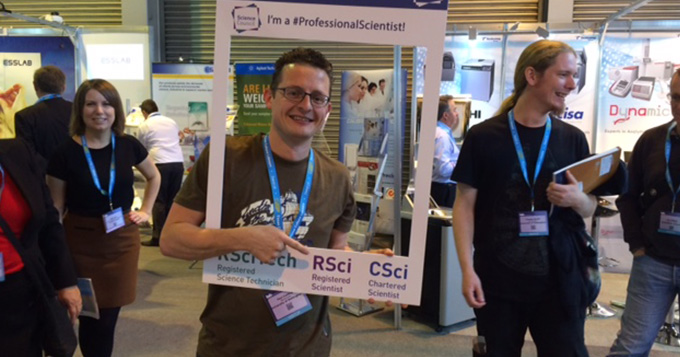 To stay as a registered professional scientist you need to annually revalidate your registration status. This means:
Meeting your continuing professional development (CPD) requirements, which may involve completing a CPD return with your licensed professional body
Renewing your registration and membership fee.
You may also want to:
Here you will find the advice, resources and information you need to do any and all of these things.
Meeting your continuing professional development (CPD) requirements
Continuing professional development, or CPD, is a framework for improving the skills and knowledge you need to do your job, and to progress within your scientific career.
As a registered professional scientist, you have made a commitment to maintaining your CPD. We have therefore provided lots of advice and resources on our CPD page that will help you meet this requirement.
If you work for a CPD Approved Employer, then we already know that the professional development programme you're on will meet these requirements so you are not required to complete an annual CPD return. If you think your organisation may qualify for this, find out more about how they could become CPD approved.
Completing a CPD return with your licensed professional body
As a member of a professional body, you are expected to show how you have met your CPD requirements using their online or equivalent monitoring system.
Different professional bodies may vary in how they approach CPD. They may ask you to monitor your hours, or to accumulate points. Alternatively they may encourage you to reflect on areas for improvement, identify how you will develop in these areas and what the outcome was of your learning.
We have provided some key principles, tailored advice and other guidance from our articles to make filling in your annual CPD return, whatever your professional body, as straightforward as possible.
Renewing your registration and membership fee
The annual cost of membership depends on your professional body and which membership category you are in.
The standard registration renewal fee for RSciTech and RSci is £15 and for CSci and CSciTeach it is £25, although some professional bodies may charge additional processing fees on top.
Check with your professional body if you're not sure what your renewal costs will be.
Get involved with the wider professional scientist community
As a Science Council registrant you get exclusive access to our registrant community through our online area (expected to go live in Spring 2016). Within this area you can find and connect with other scientists, from across many different disciplines, as well as publish blog posts (which can count towards your CPD) and access information and advice on science careers, and more.
We also hold events and seminars, many of which are free to registrants. Keep an eye on our events area or sign up to our professional scientist newsletter to stay in the loop.
Assess or support new scientists through their own application process
You have the opportunity as a registrant to assess new applications for professional registration by becoming an assessor. Assessors review applications made online or face-to-face and consider whether or not the applicant meets the competences for a particular award. Find out more about becoming a Science Council assessor.
Promote professional registration within your own workplace
The Science Council's Registrant Champions are a community within the wider network of professionally registered scientists and technicians that champion the benefits of professional registration: to the individual, to their workplace and to society as a whole. Find out more or sign up to get involved.
Refer a friend to become a registered professional scientist
If you have a friend who is a scientist or science technician and feel that they too could benefit from professional registration, you can let us know through our referral scheme.